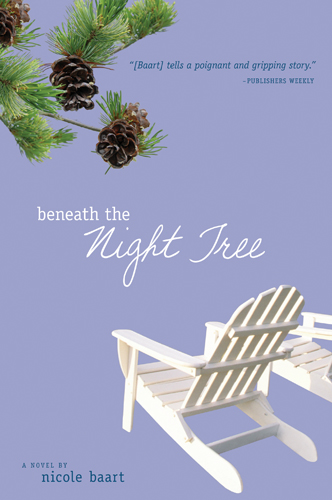 She asks the question, Do I have a child? Her heart torn by the email from her son's father, Julia prepares to deal with Parker and his effect on their lives. Regardless of the outcome Daniel is the spitting image of his father, making Parker undeniably part of their story for better or worse. Julia's story is truly poignant, bringing about a novel that is sincere of live, love and personal transformation. Julia, who has had a truly unorthodox life by many standards, is not all that different from many people in our world today. As she battles her insecurities and fears, Julia turns to those whom she loves and respects, letting them enable her to discover what is right for her. It had me captivated from beginning to end; leaving me with mixed yet satisfied emotions.
Nicole is an amazing writer. Her style is flawless, proven by the way she captivates her reader. Beneath the night tree felt so real, I often forgot I was reading a book. The author does a wonderful job of captivating the emotions and thoughts of each character, especially Julia as she deals with life-changing decisions and events. The novel is categorized as Christian fiction but felt authentically human in nature. It mentions prayer as Julia questions and pleas with God for guidance and understanding, however, it is done in a manner that makes the reader feel even a non-believer might do the same thing in the same situation. I highly recommend "Beneath the Night Tree" to readers of all genres. It is moving and unexpected.
Tyndale House Publishers has provided me with a complimentary copy of this book to review.